Those stains on your roof are eating your shingles!
People are often surprised to learn that the black staining on their roof is almost always algae and mold. More often than not, it appears on the North side of the roof where there is less exposure to the sun and moisture hangs around longer.
It survives by feeding off the limestone fillers in the shingles. As it feeds, it grows and spreads across the roof. Over a period of years, this algae will eat enough of the shingles to begin to loosen up the protective surface granules. As the shingles lose these protective granules, their protective qualities degrade. These granules help protect the shingles and reflect the sunís rays to keep your home cooler.
The American College of Occupational and
Environmental Medicine states:
"The presence of mold adversely affects human health through three processes: allergy, infection and toxicity." Mold can make you sick or even cause death. It only makes sense to try to stop it outside the house before it makes it's way in to the interior of the home.
Which Home Above Do You Think Will Sell Faster?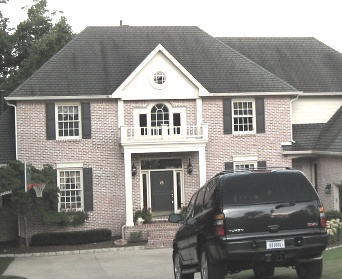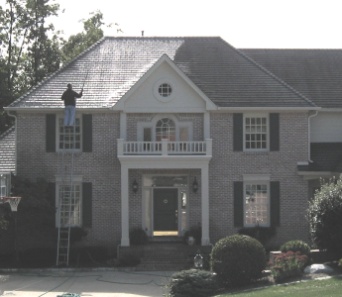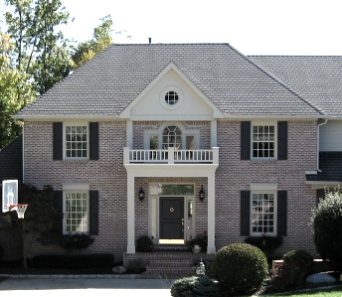 1 Million Plus Home for sale!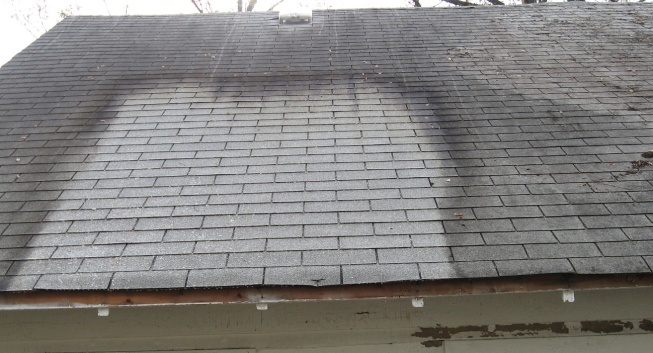 Test Spot On Broad Ripple Home
We can give your home much greater curb appeal!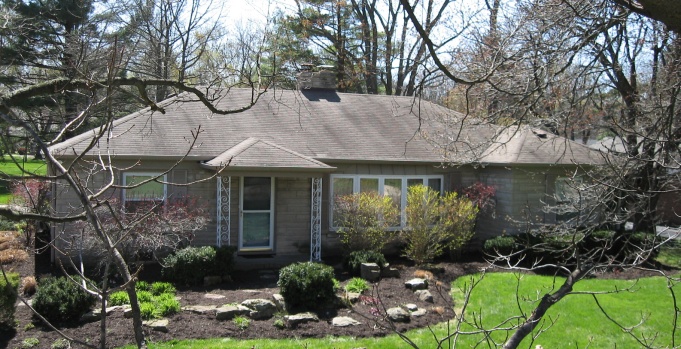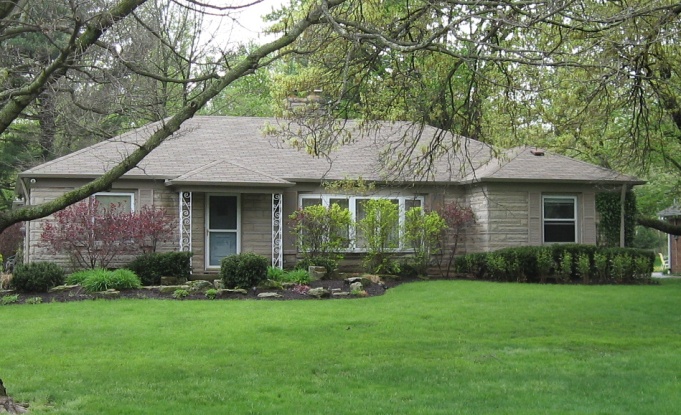 WE USED THE CORRECT METHODS ABOVE!
HERE ARE THE WRONG WAYS TO CLEAN YOUR ROOF!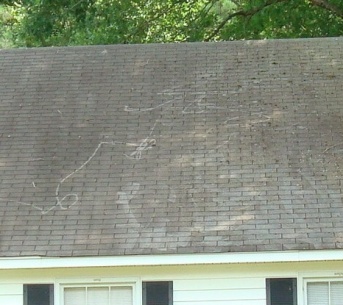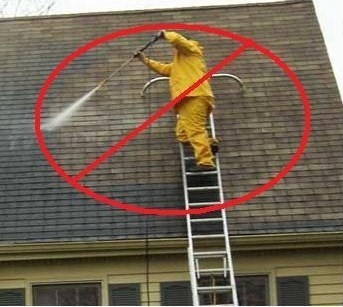 The Surface Cleaner Below is Designed for Pressures up to 4,000 PSI!
We Use LESS THAN 60 PSI As Recommended by
The Roofing Manufacturers!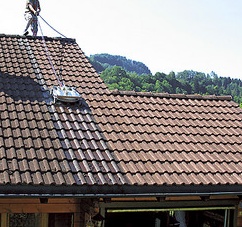 We NEVER Use One of These to Clean a Shingle Roof!
NEVER LET ANYONE POWER WASH YOUR ROOF!
We Seldom Have to Walk On Your Roof!
We can help! We use the latest cleaning methods approved by the Asphalt Roofing Manufacturers Association (ARMA) to safely clean your roof and restore the curb appeal of your home.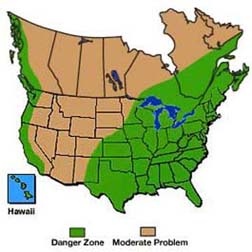 Your Stained Roof Can Look New Again, Last Longer, And Save You Energy Cost
There are three major problems associated with biological attack on asphalt roofs- appearance, shortened roof life, and increased energy cost. Algae and fungi growth on roofs may also contribute to allergies.
Is Your Roof An Eyesore?
Roof stains caused by algae attack start out as areas of light discoloration then turn to unsightly black or dark brown streaks. If not stopped, the entire roof will become an even worse eyesore as the algae continues to grow and deteriorate. These ugly roof stains detract from your home's curb appeal, pride of ownership, and may affect its resale value. Realtors almost always recommend removing these unsightly stains from your roof before listing your home for sale.
A Clean Roof Will Last Longer
Biological attack from algae can cause damage to your shingles and shorten the life of your asphalt roof. The algae take root on the surface of your shingles helping to dislodge the protective granules. Surface temperatures are also increased because of the dark stains. Its growth holds water on the roof's surface which also intensifies the sun's ultra violet rays like a magnifying glass. The increased moisture and UV rays work to further dislodge the protective granules and attack the shingle's protective asphalt coating. Moisture, UV rays, and thermal movement from temperature extremes are your roof's greatest enemies. All three are intensified by algae growth. It can suck the life from your asphalt roof leading to earlier than necessary roof replacement.
Keeping Your Roof In The Dark Can Increase Your Energy Costs
Roofs darkened by algae growth can increase cooling cost by as much as several hundred dollars a year. Measuring the surface temperature of dark, algae stained areas, versus unstained areas on the same roof, reveal that surface temperatures are increased by as much as 10%. In parts of the country where the cooling season is equal to or longer than the heating season, lighter shades of asphalt roofs are often used to lower cooling costs. More energy is needed to cool your home as roofs grow darker from biological attack.
Is There An Un-Healthy Fungus Among Us?
Algae and most other forms of fungi reproduce from tiny airborne spores. Like most plants, these spores will grow wherever they find minerals, moisture, warmth and light. Having an algae garden on your roof spewing off millions of microscopic spores around your home is not ideal, especially if you or a loved one suffers from allergies.
What about Zinc strips?
There's been a lot of hype about installing zinc strips. They look bad and they provide another way for rain to get inside. Here's your answer. They don't work. Here is a photo of a zinc strip with moss and algae growing on it. Notice the exposed nails that will eventually provide a way in for the rain. Trading moss and algae for a potential roof leak that ultimately won't kill the moss or algae doesn't sound like a good trade to me!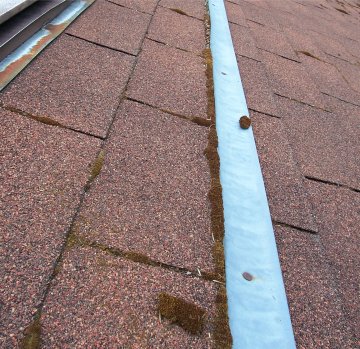 A NOTE TO ROOF CLEANING CUSTOMERS!
Algea is BLACK and moss is of course GREEN. Lichen can be all different colors.
After we treat your roof the algea will be gone 95% immediately and 100% after the first significant rain. The moss and Lichen will turn yellow and take some time to release and fall off your roof. Usually several rains. This is what's required to prevent damage to your roof.
ALL COMPLETE ROOF CLEANINGS NOW COME WITH A
EXCLUSIVE 2 YEAR SPOT FREE ALGAE WARRANTY!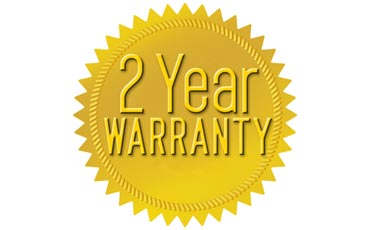 email us: info@indypowerwash.com
Call:(317) 344-9262
Indianapolis, IN
We service the following zip codes.
46202 46203 46204 46205 46207 46208 46209 46201 46211 46206 46214 46218
46219 46220 46221 46222 46223 46224 46225 46226 46217 46227 46229 46228
46230 46216 46234 46235 46236 46237 46240 46241 46239 46244 46242 46249
46251 46253 46254 46250 46255 46256 46259 46260 46262 46266 46268 46280
46283 46285 46290 46291 46295 46296 46298 46274 46278 46275 46277 46032
46033 46082 46123 46060 46061 46062 46037 46038 46085 46077 46034 46280
Roof Cleaning - Sidewalk Cleaning - Vinyl Siding Cleaning - Power Washing Contractor - Roof Algae
Pressure Washing Company Indianapolis IN - Power Washing Indy - Indianapolis IN Business
Commercial Concrete Cleaning - Driveway Cleaning - Indianapolis Indiana